Not all poker players are gifted with the same skills. Some might be great at playing poker but lack the skills to win. If you want to become a skilled and professional poker player, then you need to take your game up a notch. There are numerous tools that can help improve your game and one of them is the best poker tracker. A good tracker will provide information about how much money you have won, what the last bet is, and whether you are progressing in your journey to win big.
All the top professional poker players have a strong understanding of odds and odds-calculation. Today, there are several tracking apps for poker players available on the market that calculate all the various probabilities, including a good variance calculator. Once a player understands how to track their own game using one of these programs, they can find areas within their game where they need improve.
Poker players have been using poker tracking apps to track their games and improve their poker skills. These apps are available for Android, iOS, and Windows.
Some of the best poker tracker apps include Poker Tracker 4, Poker Copilot, Xeester, and Holdem Manager.
Poker players can use these poker tracking apps to track their game statistics like hands played per hour or total hours played. They also provide an analysis of player's game like what percentage of hands they play in position or how often they bluff.
What is a poker tracker?
What is the best poker tracker? Holdem Manager 3? PokerTracker 4? These decision support software have both very precise features allowing you to significantly improve your profitability. We exposes you hereafter the assets of each.
A poker tracker is a tracking software that:
allows you to track your online poker progress
shows the evolution of your bankroll
analyzes your playing patterns and trends
presents detailed data on the playing habits of your opponents
The poker tracker keeps a history of every hand you've played. It stores all hands on your computer. You can then review your hands, see trends, analyze your playing style, spot leaks in your game and fix them. In short, it allows you to improve your game and thus become a better poker player.
There are currently only two stable and comprehensive programs for analyzing poker statistics – Hold'em Manager 3 and PokerTracker 4. Which is the best poker tracker? When it comes to features, prices and service, both software programs are excellent and similar. Moreover, their use is supported on all major poker sites.
I have owned both for a long time and I can tell you that the choice is mostly a matter of personal preference. I started with PokerTracker Holdem v2 when I still had to buy the Ace HUD separately. Later, PokerTracker 3 included the Ace HUD, but at that time I preferred to use Hold'em Manager. Since winter 2019, the developers have finally released the long-awaited 3rd installment of Holdem Manager! And it was worth the wait!
Hold'em Manager 3, the smooth poker tracker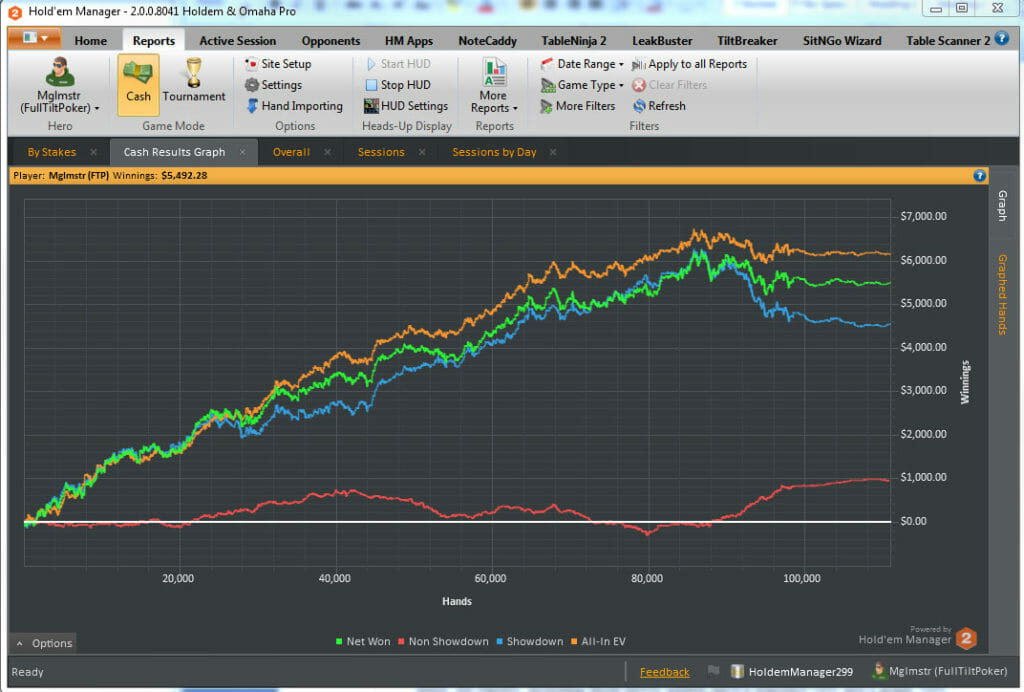 In August 2014, the two companies announced a merger that would allow them to focus on quality and new product development. However, the two companies are still in competition and the current versions are PokerTracker 4 and Hold'em Manager 3.
Of the two poker trackers, PT4 is available for both Windows and Mac platforms. While HM3 is Windows-based software and you can run it on a Mac only under emulation, but I would not recommend it. If you own a Mac, just use PokerTracker 4. Currently, the programs cost exactly the same: $60 for Small Stakes Holdem versions and $100 for all Holdem levels.
For those of you who also play Omaha, there is an Omaha version, at the same price, and combined Holdem and Omaha packages at $160.
Holdem Manager 3 is the latest and most accomplished version of the popular Holdem Manager poker tracker. Developers have been working for 4 years to improve and optimize it. Version 3 is finally available this winter! I have tested it and present you its new features. Find here the complete test of Holdem Manager 3.
PokerTracker 4, the ultimate poker tracker for analysis
An additional software, I would recommend TableNinja II saves you time when playing at multiple tables. How does it work? By automating tasks such as managing the time bank, setting up shortcuts, managing waiting lists, opening tables and much more.
Another useful tool is TableTracker. It is the ultimate table selection tool, available exclusively in PokerTracker as an add-on service. The idea is to find the most profitable tables and opponents. There is no point in playing against regular players. Even if you're better than them, they play tight and the rake (the withdrawal made by the online poker room) will absorb your winnings. In order to maximize your winning rate, you need to find tables where the players are playing fast and wide. TableTracker makes this selection in a smooth and qualitative way and will offer you the softest tables.
Both programs are reliable and it is your personal preference which one you use. Recently, I used PokerTracker 4 myself – smooth performance and easy to set up. That said, if you are serious and studious about your poker and are always looking to improve, it's a good idea to test each of these solutions for a week or two. You'll have plenty of time to see which one makes more sense and is more organized. The one that works best for you.
Either way, sooner or later, you will choose one and stick to it. Indeed, it is easier and more relevant to keep one database up to date instead of two.
At the end of the day, don't get too carried away. Go ahead and get the free trial versions and see which one will be the best poker tracker for you.
Download the trial version of PokerTracker 4 and Hold'em Manager 3 and improve your odds!
7 Reasons to Use a Poker Tracker App
PokerTracker is a poker app that provides players with the tools they need to analyze their game and improve their skills.
Here are eight reasons why you should use a poker tracker app:
Track your hands and analyze them for patterns to improve your game.Hand tracking is the process of using an outside device to track the position of your hands in space. The information gathered by this device, e.g. motion sensors, can be used to analyze your game and identify patterns that can be used to improve gameplay.
Take notes on what you win, lose, and learn during each session. Every session needs to be recorded, whether it is a win, loss, or learning. For every session, there is something to be learned.
Find out how much money you've won or lost at the poker table in the past 24 hours or the past 30 days. In the past, if poker players wanted to find out how much money they've lost or won, they would need to manually log in and check their account. Nowadays though, every major poker tracker has a live update feature. With this feature, players can see their recent activity as it is happening.
Set poker goals for yourself and track your progress in achieving them. Setting goals is an important part of poker. The goals need to be specific and quantifiable, and they should be written in a way that will motivate you. You should also track your progress in achieving them.
See how often you're playing at a certain limit or type of poker table. When playing poker, it's important to know how often you're playing at a certain limit or type of poker table. For example, if you are playing low stakes no-limit games full time, your odds of winning are much higher than if you were playing high stakes no-limit games. The more often you play at a certain limit or type of poker table the better your odds will be over time.
Analyze your opponents' play style to gain insight into what they're doing that's working against you. When you play against someone, pay attention to what they're doing that's working against you. Whenever you see them do something successfully, figure out how they did it. Then, try to use this knowledge the next time you play them.
Get recommendations for improving your game from experts, including tips to fix the leaks in your game.Making the game is only half the battle. Getting users to download it and enjoy it is an entirely different story. You need marketing, analytics, feedback, beta testing and more to ensure you're getting the most out of your game.
How Does a Poker Tracker Work?
Using a poker tracker is a great way to improve your poker game. It will help you identify your weaknesses and strengths in order to play better.
There are many types of poker trackers on the market, but most of them work in the same way. They analyze your hands and give you statistics based on what you do during the game. Some trackers even provide coaching and training features that can teach you how to play better and give you tips on how to improve your game.
Which One's the Best Poker Tracker & Why
The best poker tracking software is the one that suits all your needs. It should be easy to use, have a user-friendly interface and be compatible with all the devices you are using.
There are many poker tracking software available in the market today. But not all of them are equally good. Choosing one that suits your needs is difficult because there are different types of poker tracking software available in the market.
The best poker tracking software should be easy to use, have a user-friendly interface and be compatible with all the devices you are using.
We hope that this article has been helpful for you and now you have a better understanding of what Poker Tracker is and how it can help your poker game.