Neteller is one of the leading players in online payment services. It is a E-wallet that allows you to deposit money, pay, receive or send payments. It is the main rival of Paypal, and it must be said that it has some serious features to offer. Below, we give you our opinion on this online payment service and tell you all about its strengths and weaknesses.
What is Neteller?
Neteller is a safe bet, with nearly 20 years of experience and a growing number of customers. Easy to use, reliable and secure, we appreciate its prepaid cards that offers the same use as a standard bank account… a little more discreet.
Neteller Review
Neteller was founded in Calgary, Canada in 1999. The founder's name is Jeff Natland and he understood before anyone else that online payments would be widely used. Since 2004, for tax reasons, the company moved to the Isle of Man, and is therefore under the British flag, controlled by the FSA (Financial Service Authority) of the English government. Since 2015, the company has been owned by Paysafe, a British company specialized in online payment. Neteller is listed as an e-money authorization institution, making it an ultra-secure online portfolio.
Neteller has customers all over the world, in more than 180 countries. With this service, it is possible to pay merchants and, especially, to make transactions with most virtual casinos. In fact, since the early 2000s, Neteller has positioned itself in the online gaming niche. This is how the service has become a giant in money transfer, with more than a million users and billions of dollars passing through its servers every year.
The services of Neteller
It's almost a bank! Indeed, Neteller is an alternative to your bank card. It is a kind of mobile wallet that acts as an intermediary between your bank site, partner sales sites and online casinos.
This allows you not to reveal your bank details, but simply to share your Neteller account. It really behaves like your bank's current account, since you can request a prepaid withdrawal card associated with your account, like with Skrill. You will then be able to withdraw or pay in store with this prepaid card.
Transfers are fast whether you are sending or receiving money. It's instant or almost instant from one Neteller account to another, and it takes only 48 hours to transfer to your bank account, in most countries.
Neteller offers you the flexibility to make money deposits in several ways. For instance, you can transfer Bitcoin immediately, go through your bank, send cash via 7/11 or Oxxo, or use prepaid cards such as Paysafecard. The fees applied are different from a system to another, but they generally remain very competitive.
Is Neteller safe?
You will never disclose your bank details using the Neteller site's money transfer system. There is therefore no risk of being hacked into our main account. The money in your Neteller account is protected by a very secure system, which has clearly proven itself over the last 20 years.
Moreover, unlike traditional banks, Neteller is obliged to keep its customers' money in unique accounts. The money cannot be used to play the stock market. This is the case with all banks that actually only have 10% of the money left and could not pay back everyone if it were necessary. Neteller wouldn't have this problem, since every single euro deposited remains in place, and that's why it is accessible immediately if someone decides to use it.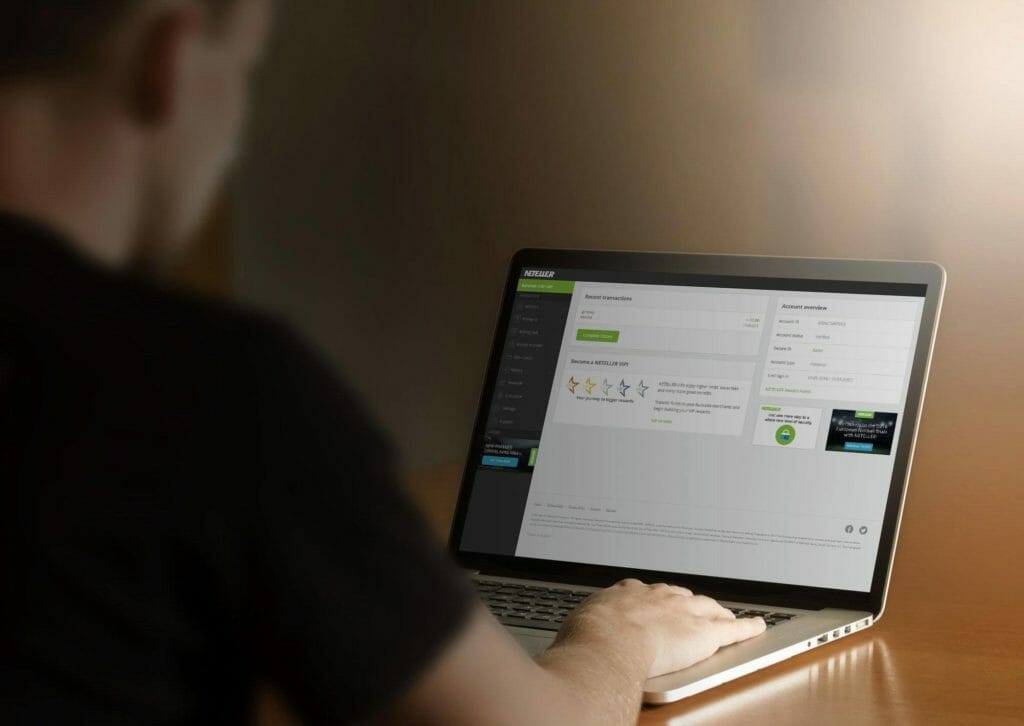 How to open a Neteller account?
In order to take advantage of Neteller services, you must first open an account. It only takes 5 minutes to answer the survey gathering some personal information, and it's completely free. It is necessary to give a valid email address, to have a password and to select the currency you wish to use.
To activate your account, you need to make a first transfer of €22.50. You can make this deposit using your credit card or via a bank transfer or a prepaid card. In short, all the deposit solutions available on the site are directly accessible. Please note that the fees are different from one solution to another.
Security questions are then asked, then a bank account is linked and finally a proof of identity is sent. Then, it will take about 48 hours for the account to be opened and ready to be used.
Neteller cards
Net+.
The Net+ prepaid card is issued by the parent company, Paysafe Financial Services Limited. It is an international Mastercard that is compatible throughout the network. You will not have an IBAN or RIB, but you will be able to use this card like a traditional CB. This way, you will be able to withdraw money from ATMs worldwide, or pay directly in any store.
There are maximum limits, i.e. you can withdraw a maximum of €700 per day and spend a total of €2250 per day. We load our card from our account, with a maximum balance of 6750€. The card is free, you only have to pay a 10€ shipping fee. There is no charge for payment processing, either online or in a physical store, but all withdrawals are subject to a fee of 4€ per withdrawal. It is possible to recharge your card directly with our credit card or even with cash, but in this case you will pay the deposit price according to the method used.
Net+ Virtual Gift Card
It's the same card, except that it's made to be given away. So, if you don't know what to offer, you can have a prepaid card sent to someone close to you, who can use it in any store. It's pretty cool, you can personalize the card and choose the currency. It will however be impossible to withdraw the money from an ATM.
Customer Service
It is one of the best customer services for online payment solutions. First of all, the site is really well done and you can usually find most of the information you are looking for. If it is not the case, you can contact them by email or by phone. No need to speak English, you can choose among several languages. The response time is usually very short, less than 2 minutes, and all the correspondents I had online were patient, courteous and precise in their answers. Very good experience, and further proof of Neteller's seriousness.
Why to use Neteller
Neteller is a reliable and perfectly secured payment service.
Bank details are never communicated.
Transactions are very fast from one account to another.
A prepaid card to allow us to use it in the same way as a current account.
English law ensures us an almost total anonymity.
There are numerous deposit solutions (be careful, however, with the prices of some solutions).
User-friendly, it is a simple tool to use, with a good smartphone app.
The customer service is excellent.
What we don't like about Neteller
Currency exchange is not recommended.
High ATM withdrawal fees.
High deposit fees depending on the chosen method.
Our opinion about Neteller
It is a reliable company in the online payment service market, and it is also one of the most complete services. You can deposit money, pay, receive or send payments, and we appreciate the prepaid card that allows us to use our funds without making a transfer to a bank account. Our bank details are protected and we benefit from English law and a certain guarantee of anonymity.
The use of the site and the application is very simple, as is the registration and activation of the account. In case of problem, the customer service is reactive, pleasant and competent. Not all sites accept payment via Neteller, but with the Mastercard prepaid card, you will be able to pay both on the internet and in any physical store of your choice.
If you are online poker player, then you must have an account at Neteller. It is the fastest way to cash out your winnings. Even if you are not a player, Neteller allows you to have a second, more discreet, current account to manage the money you win or receive on the internet.
Sign up for your free account
Sign up for your free NETELLER Account in under a minute.
Upload funds
Add funds via multiple deposit methods.
Send & spend with Neteller
Send, spend, shop, withdraw and make secure payments.